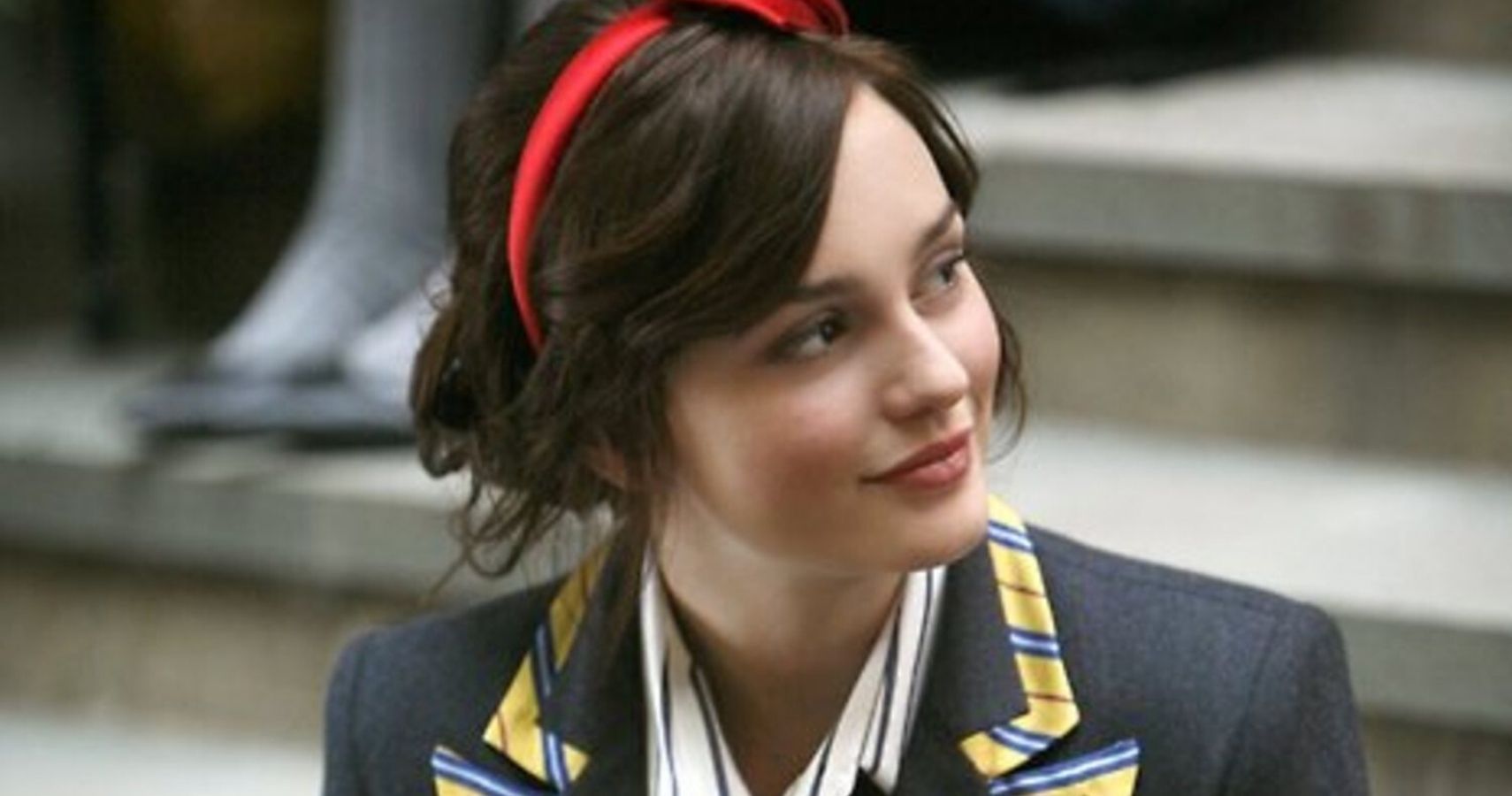 Gossip Girl: Blair's Hairstyles, Ranked
One of the most fashionable television shows of all time is Gossip Girl, and one of the stars of this story is Blair Waldorf. As an Upper East Sider who is from an affluent family and who is super into fashion, she has worn so many incredible outfits over the years.
However, a truly great outfit is not complete without the luminous accessories, the perfect makeup, and the styling of hair. And since Blair strives for perfection in all she does, she has featured hairstyles such as the 10 listed out down below, which are her best ones ever, ranked!
9

Pulled-Back, With Tendrils
Blair seems to enjoy swooping her hair back in polished and stylish ways, and once upon a time, she showed off this style. The majority of her hair was secured at the nape of her neck, but there were also these pleasing little tendrils hanging down around her face, as well.
This sophisticated style paired well with this dramatic gown that featured tulle, floral embellishments, and sequins, one of her best dresses.
8

Curls, Curls, Curls
Blair's hair has a natural wave to it, but one time, she pumped up the volume in an amazing way! This was the time she wore that baby doll-style dress with a sweet collar, so she looked like a Disney princess or a living doll.
Unfortunately, she did not give away the secret to how she got such bouncy curls and how she got them to hold, but this was a super successful style.
7

All Her Braids
It is common to see Blair in braids, and she has put several different kinds on display. A lot of them have been featured in updos or low buns, a staple look for B and some of them have acted like headbands, since that is her signature accessory.
She has a gift for transforming her hair, and each time she twists strands together, she comes out with a winning look.
6

This Complex Braid
One braid in particular deserves to be talked about a bit more… In this instance, Blair's hair was braided down the top then braided to the side and all topped with a pink headband that was covered in jewels. This pop of pink echoed the pink flowers that trimmed her white dress.
This is a very complex-looking braid, but it is one of her best ever!
5

Wedding Day Waves
On Blair's first wedding day, she wore her hair down in natural waves, and the veil was like a cherry on top. She is obviously a gorgeous girl, and it seems that she can simply wake up and have her hair look this magnificent.
While accessories and complex styles are on this list, as well, this simple yet stunning look is one of the times that Blair looked her absolute best.
4

Wedding Day Headband
On her second wedding day (the one that really counted, as she finally tied the knot with Chuck), Blair wore a soft blue gown, and she, of course, had to wear a headband; it was more like a tiara, covered in sparkles, and it sat atop her hair, which was pulled back into another one of those messy yet polished buns.
She goes with this style a lot, and it makes sense, as it fits her personality well and is so pretty, especially when paired with her polished and preppy clothing items!
3

The Red Headband
On a contrast note, Blair showcased this look early on in the show. She was wearing a preppy blazer since she was at school, and she had on one of her many headbands. She also went with this pulled-back style again.
On her wedding day, she made this look a little more polished, while here, it has a rougher quality to it. And that is infamous, considering she grew up quite a bit between high school and her marriage.
2

Pulled-Back Waves
Another big moment between Chuck and Blair was the one when B was wearing the red gown, and in that scene, this was her hair. She had voluminous waves that were pinned back ever so slightly and softly.
This does not look like a super complicated style to replicate, but in this moment, it felt so elaborate and so perfect. Once again, she looked like a true princess, with the most darling details happening from head to toe.
1

Luscious Locks
Blair's hair looks best when she shows off her luscious locks like this. Already, her head of hair is fabulous, with its dark lustrous and its thick volume. Plus, it makes sense that she adores headbands, as they accent her beauty so well.
These waves are over the top yet delicate at the same time… which could describe Blair herself. Yes, she is stunning, and many fans are probably still drooling over these picture-perfect waves that are full of just the luminous amount of drama!
NEXT: Gossip Girl: 5 Times We Felt Bad For Blair (& 5 We Hated Her)
Next
10 Things That Annoy Office Fans, According To Reddit
Thanks for watching our article Gossip Girl: Blair's Hairstyles, Ranked | ScreenRant. Please share it with kind.
Sincery Wedding dress News Club
SRC: https://screenrant.com/gossip-girl-blair-hairstyles/
powered by Blogger News Poster