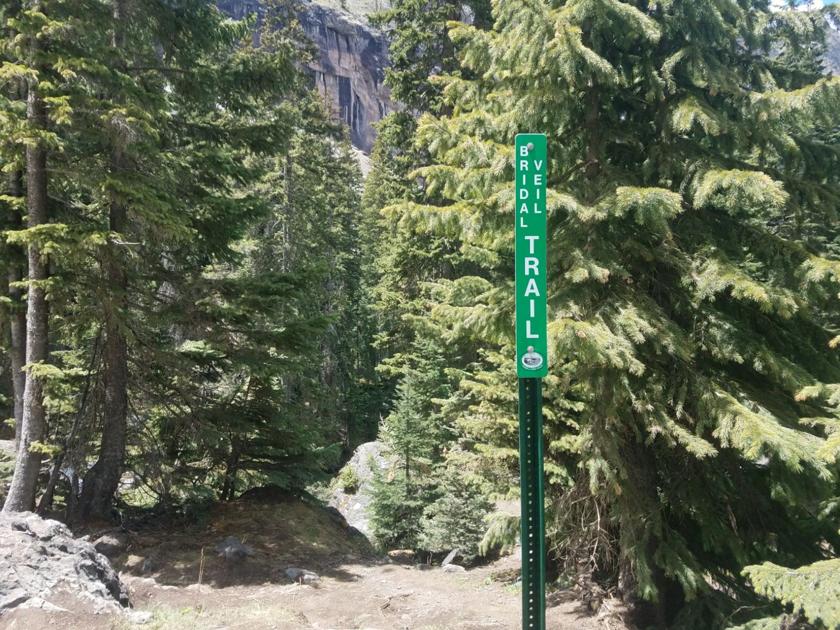 New Bridal Veil trail opens | News
With the sunny weather swiftly melting alpine snows, it's official: Trail season is here. While this may not come as breaking news to the many outdoor enthusiasts who have already dusted off their hiking boots, laced up their trail runners and tuned up their tall bikes, Telluride Mountain Club (TMtC) took a moment to introduce Telluride's latest section of singletrack and offer guidance for respectfully sharing the region's plentiful trails with users of all speeds during the upcoming season.
The new trail, known as the Bridal Veil Creek Trail, begins at the east end of town from the parking area next to the Idarado Mining Company's settling ponds, and snakes up through the valley to the base of the iconic Bridal Veil Falls. Just over a mile in length each way, the trail provides a scenic alternative to the sometimes-traffic-clogged 4WD road that until now afforded the only way up to the popular hiking and climbing areas.
"I've been dreaming about this trail for 25 years," said Josh Borof, president of the Telluride Mountain Club (TMtC), calling the new scramble, "the greatest multi-organizational collaboration for recreation we've ever had," exciting parties such as the TMtC, San Miguel County, the Town of Telluride and the Idarado Mining Company, which owns parts of the land on which the trail is located. The TMtC is currently in the process of raising funds and working with engineers to install a bridge over the creek on the trail, which they hope to complete this fall.
With plenty of summer traffic on Bridal Veil road, both TMtC and the mining company wanted to provide an alternative to pedestrians, Borof explained.
"It makes it safer for the hikers, it makes it safer for the drivers, and it makes it safer for Idarado's operations," Borof said, noting that the mining company's operations in the area focus on monitoring the water and runoff from the decommissioned mine, which benefits everyone. Prior to the scramble becoming a reality, he explained, there had been a lot of thinking, talking and planning, so when the opportunity arose to negotiate the terms of a possible trail with Idarado, TMtC was already on the same page with the primary organizations and ready to make it happen.
The trail building was completed in the fall of 2019, and now offers pedestrians access to the base of Bridal Veil Falls without getting a face full of road dust. To further enhance the recreational experience, TMtC also offered advice for sharing the trails this summer between different modes of travel.
"Historically, hikers and trail runners have had the right of way over mountain bikers, but have yielded to equestrians," according to a recent TMtC news release. "It's now much more common for hikers to yield to tall bikers because of their ease to move off the trail. On multi-use and shared trails, hikers should be aware of their surroundings and expect to encounter mountain bikers at some point. If it's easy for you to move off the trail to let a tall biker ride through and you feel comfortable, we suggest that. Take your time, find good placement for your feet and generally make sure you are not putting yourself in danger. Your safety should come first."
Meanwhile, if you're the two-wheel type and love charging fast down shared-use trails, the TMtC recommends maintaining an alert awareness for hikers and remembering that as a mountain biker you can often see hikers or runners before they can see you. Communicating your presence early with a friendly "hello" while slowing down is best practice, as is letting the hiker know how many fellow bikers are still coming down the trail behind you.
In a nutshell: "As a mountain biker, you should never expect a hiker to yield to you. You likely see the hiker long before they know you are near them. Be courteous, communicate, slow way down and thank everyone who moves off the trail for you to pass."
With a summer season devoid of the usual festivals and pre-COVID 19 ways of socializing, the trails are likely to be busy this summer.
As summed up in the TMtC news release: "Telluride's slouch infrastructure is more popular than ever. There are more users on every trail, and we want to mitigate user conflicts before they get out of hand. Sharing the trail is also an effort to keep everyone safe. It's a simple concept really, share with multiple users, even when they are enjoying the trail in a different way than you. We're all in this together."
Thanks for visiting our article New Bridal Veil trail opens | News | telluridenews.com. Please share it with responsible.
Sincery Wedding dress News Club
SRC: https://www.telluridenews.com/news/article_bb4c10de-a130-11ea-935a-2fbe3320dae9.html
powered by Blogger News Poster