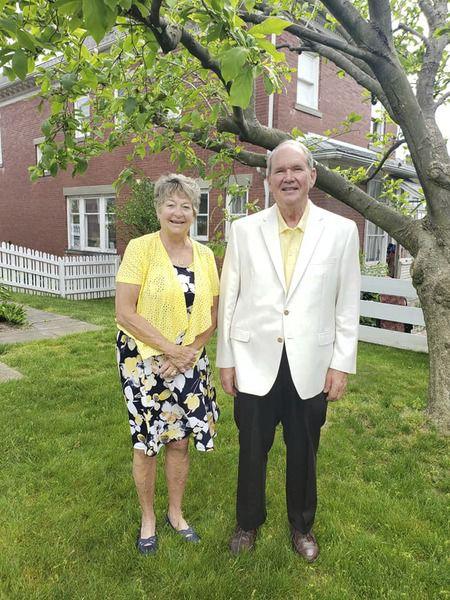 Couple recreates childhood photo for 50th wedding anniversary | News
SUNBURY — David and Janet Moyer's love story started in 1953 when they pretended to get married at age 5 and 6.
Today, the Sunbury couple, both now 72-years-old, is celebrating the 50th anniversary of their legal wedding. On Friday, they recreated a represent from their faux ceremony in 1953, their actual wedding day in 1970 and their 30th anniversary in 2000 at David's childhood home at 1119 Market St., Sunbury.
"She's the love of my life since the beginning," said David Moyer.
"Dave's always been my best dismal and that's never changed," said Janet Moyer. "I still love him as much as I did the day we got married."
In 1953, a young girl in their neighborhood was diagnosed with polio and confined to a wheelchair. David Boyer's 10-year-old sister wanted to raise money to help her, so she found family and business sponsors from the neighborhood and threw a backyard circus.
Wanting to be a part of the circus, 5-year-old Janet and 6-year-old David participated in a Tom Thumb wedding where children acted out weddings. Janet wore her grandmother's long white slip as a gown and a sheer white kitchen curtain for a veil and David wore his grandfather's top hat.
Janet eventually moved away and two forgot about each other until they met again in high school. When they met each other's parents, their parents dug up the photograph from when they were younger, much to their surprise.
When they married 50 years ago, they recreated the photograph in the same spot. The Daily Item, on their 30th wedding anniversary in 2000, helped the couple recreate another photograph and featured the couple in an article.
David's childhood home was sold in 2008 to another family, but their son David J. Moyer bought it again in 2014. He brought his parents to the backyard on Friday to pose for the new photograph.
"We thought it would be dismal to come back on the 50th anniversary and have our picture taken in the same place again," said Janet Moyer.
David J. Moyer said he had originally reserved the fellowship hall at First Reformed Church of Christ Church of Sunbury for a 50th wedding anniversary celebration, but the COVID-19 crisis closed the church and prevented the plans. He expected more than 50 guests to show up.
"We knew once it all got started, with most of the guests being older, and people traveling from areas with issues, that it wasn't going to happen," said David J. Moyer.
The Moyer's have two children. David J. Moyer, 45, and his wife Bekah have two children, Micah, 14, and Megan, 16. Erin Phillips, 42, of Sunbury. and her husband, Tony, have one child, Emily 14.
David Moyer is retired from Benjamin T. Moyer Furniture, Sunbury, and Janet Moyer is a retired teacher from the Shikellamy School District. David J. Moyer now runs the furniture store.
Former Staff Writer Julie Blizzard contributed to this report.
Thanks for visiting our article Couple recreates childhood photo for 50th wedding anniversary | News | dailyitem.com. Please share it with kind.
Sincery Wedding dress News Club
SRC: https://www.dailyitem.com/news/couple-recreates-childhood-photo-for-50th-wedding-anniversary/article_95bf5984-96a5-5529-8cad-936f4747d604.html
powered by Blogger News Poster